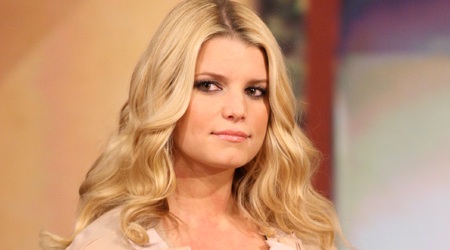 Jessica Simpson was on Oprah yesterday and talked about everything from the mom jeans(which by the way were a size 4), John Mayer, her weight and her new show. While talking about her show, The Price of Beauty which will be on VH1 March 15th, Jessica really acted like she learned a lot from traveling the world & viewing how other cultures portray beauty.
In one clip, Simpson and her best friends Ken Paves and CaCee Cobb travel to Paris to meet former model Isabelle Caro, who suffers from a very severe case of anorexia. Caro made headlines when, at 62 pounds,she posed nude for this anti-anorexia billboard.
Caro said that a designer told her she needed to lose ten pounds if she wanted to model. A few years ago she was in a coma and was expected to die, but now she's started eating little by little. Caro is now trying to pass a law in Parliament saying that you can't model if you're too skinny. One of my dreams is to see models as real size women, not unhealthy and rail thin. I would love for this law to pass. Jessica, who was brought to tears by her story, told Caro "To us, what you're doing right now makes you one of the most beautiful people that we have ever seen."